James Barham (1721 – 1786)
Soldier, Cordwainer and Master of the Workhouse
Limehouse
James spent a number of years in London. The first evidence is in 1755 when at the age of about 35 he marries Mary Durant in Deptford. Nine years later a number of records refer to him trading as a cordwainer North of the Thames in Limehouse. The evidence for this is discussed below - for other aspects of his life see the following links:
The first evidence of James in Limehouse is an entry in the Land tax Assessments for St Ann, Limehouse in 1764:
James Barham Three Colts Street £1.2.0 (Rent £5.10)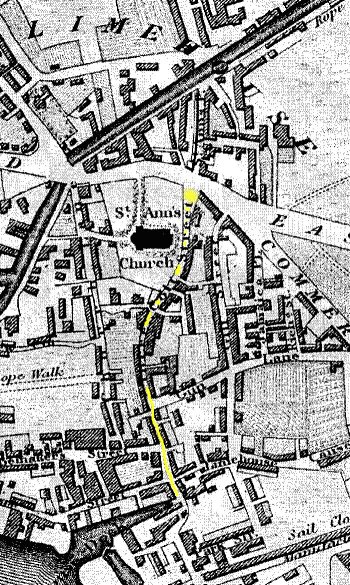 Three Colt Street runs from St Ann's Church towards the Thames and is still present today.
It is clear from later documents that James was trading there as a cordwainer. The word 'Cordwainer' comes from the ancient Spanish leather centre of Cordoba where the Arabs used an alum dressing process on goatskin to produce a fine white leather that became known as 'cordovan' or 'cordwain'. Initially all craftsmen working with fine leather were called 'cordwainers' and this included shoewrights, girdlers (beltmakers), pouchmakers, pursers, malemakers (leather trunk makers), botteliers (leather bottle makers) and glovers as well as those who prepared the leather, whitetawyers, curriers, tanners and dyers. Gradually the title of 'cordwainer' was restricted to makers of fine footwear.
1766 must have been a busy year for James as there are two records identifying him as a cordwainer of St Ann's. The first of these, dated 3rd November 1766, is the indenture for the apprenticeship as painter-stainer of his son James to Robert Blackman.
The other document, an affidavit, is dated December 1766. In this James is appealing on behalf of the residents of St Ann's, who had been indicted at the October sessions for not repairing the highway of Gun Lane (which leads from Three colt Street to Commercial Road)., He claims that they have been unable to make the repairs due to blockage of the adjoining common sewer,,despite an application to the Commissioner of Sewers.
The following year would appear to be another turning point in his life as we find references to James Barham in the 1767 St Botolphs vestry minutes for taking care of children from the workhouse. This is discussed further on the page dealing with his career as workhouse master.