Schofield
This page contains information about the family history of Joseph Schofield (1857 -1931) Iron Founder of Ashton-under-lyne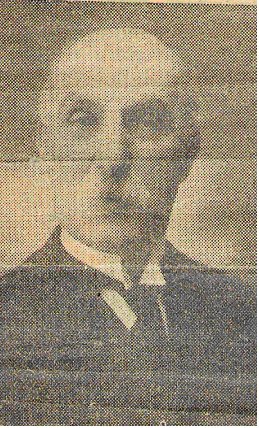 Obituary
LATE MR. SCHOFIELD - 20 Years Chairman of Men's Class
Mr. Joseph Schofield, of Rose Villas, Old­ham Road, Ashton, died on Saturday aged 73. Mr. Schofield was the son of Mr. Samuel Schofield, who had built up a prosperous iron business at the Park-Street Works, in which Mr. Joseph Schofield, along with his brother, Mr. Thos. G. Schofield, entered into partnership. Mr. Samuel Schofield and his brother Joseph (who was manager of­ Knott's Mill) took considerable interest in the affairs of St. Peter's Church, where they became churchwardens and superinten­dents of the Sunday School. The brothers T.G..and Joseph followed in the footsteps of their father and uncle, and both became. highly-respected office-bearers in St. Peter's Church and Schools Later they joined forces with .the enthusiastic band of Church, workers who in 1894, under the energetic leadership of Mr. Joseph Bardsley, founded St. Peter's Men's Class. Joseph was ,most happy in his home .and church life, and won the love and trust and admiration of a large circle of friends. When Mr. Bards­ley left Ashton in 1908 responding to the calls of business, Mr. Joseph Schofield was unanimously chosen as chairman of the c1ass, which he held with entire acceptance to the last.
The. funeral was held on Wednesday at Dukinfield Cemetery, conducted by Canon.A.W Thompson. A large contingent of the men of St. Peter's Class accompanied the cortege to the cemetery, and large congregation in the Parish Church testified to the widespread regard in which the deceased was held.
The mourners were: Mrs. Schofield, Mr. T.H. Schofield (London), Miss Mary Schofield, Mr. and Mrs. J. R. Wagstaffe, Mrs. Guy Garside, Miss Cope. Mrs. Eli Cope, Mr. Walter Cope, Mr. James Cope, Messrs. Ernest, Sydney and Reginald Cope, Mr. Bardsley, Mr. J.A. Ford, Mr. Pidcock, Mr. A.M. Healey, Mr, Fletcher, Rev. Charles and Mrs. Oldham (Halifax), Councillor S. A. Platt, Mr. W. B. Woffenden. Mr. Ben Gill, Mr. E. H. Carrington, Mr. E._Thornley, Messrs. A and A.S Jakeman, Mr. Lewis (Newton), Mr G.H. Donald, Mr C.H. Longstaffe, Mr. Enoch Fox, Mr. Ben Wallis, Mr. Thomas Courtman, Mr. Leonard Buckley, Mr. Nutall, Mr. R.G. Yates, Mr. Fenner, Mr. Sam Hadfield, and others. Many floral tributes were received. Mr. Geo Taylor and Son had charge of the funeral arrangements.
An appreciation
Mr. Schofield was not a militant muscular Christian of the Kingsley type, but being a thoughtful Christian man with the sacred regard for conviction upon him, he never hesitated to take action when occasion demanded. So he, with his brother "T.G." threw themselves unhesitatingly into the fight for the Evangelical Protestant interpretation of the Book of Common Prayer. They took the attitude of St. Peter's Mens Class, supported by the Rev. T. B. Dixon, the aged Vicar of St. James's, and with the declared sympathy of Bishop Knox. Mr.Joseph, in his quiet way stood firmly for the old Book of Common Prayer and rejoiced heartily when the battle ended in famous victory in the House of Commons. He was whole-hearted in his support of the local District Churchmen's Protestant Association, While he was a most loyal churchman, his attitude towards other religious bodies was in full fully in harmony with the Keswick motto.."All one in Christ Jesus." His integrity of character, his generosity of heart and purse, his deep sympathy with suffering, and his natural unaffected humility, endeared him to all. A large number of them undoubtedly felt a personal sense of loss and shock when the sad news reached them. All felt they had been the richer for knowing him, and had been made poorer by his loss
JAF.