Like his father, the absence of any record of his birth means that we can only estimate the year from his age at death. He was buried on 17th November 1831 when it was stated that he was 83 years old. Thus we would expect that he was born in 1747 or 1748 and this would be consistent with the date of his parents' marriage. However, for the same reasons as discussed for his father, there are two notes of caution for this estimate. Firstly, the person reporting his age on death may not have known his exact date of birth, and secondly, the calendar changes in the mid 18th century in the mid 18th century made it difficult for anyone to know their exact age.
1n 1766 at the age of 18 he was apprenticed for seven years to Robert Blackman of the Painters-Stainers company. The Court Minutes of the Painter-Stainers Company on 3rd December 1766 state that
"James Barham son of James Barham of St Ann's Limehouse Cordwainer bound to the same for the same."
"The same for the same" refers to the preceding entry which indicates he was apprenticed to Robert Blackman for seven years. The indenture for the apprenticeship states some interesting conditions: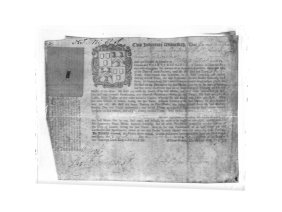 This indenture witnesseth That James Barham son of James Barham of St Ann's Limehouse, Cordwainer, doth put himself apprentice to Robert Blackman, Citizen and PAINTER-STAINER, of London, to learn his Art, and with him (after the manner of an apprentice) to serve from the date of these Presents until the full End of Term of seven Years from thence next following, to be fully compleat and ended. During which term, the said apprentice shall faithfully serve, his Secrets keep, his lawful Commandments everywhere gladly do. He shall do no Damage to his said Master, nor see to be done of others, but that he to his Power shall let or forthwith give Warning to his said Master of the same. He shall not waste the Goods of his said Master, nor lend them unlawfully to any. He shall not commit Fornication, nor contract Matrimony within the said Term. He shall not play at Cards, Dice, Tables or any other unlawful Games, whereby his said Master may have any Loss. With his own Goods, or others, during the said Term, without Licence of his said Master, he shall neither buy nor sell. He shall not haunt Taverns or Play Houses, nor absent himself from his said Master''s Service Day nor Night unlawfully, but in all things as a faithful Apprentice he shall behave himself towards his Master and all during the said Term.

And the said Master ...........his said Apprentice in the same Art written herein by the best Means that he can shall teach and instruct, or cause to be taught or instructed, finding unto his said Apprentice, Meat, Drink, Apparel, Lodging, and all other Necessaries according to the Custom of the City of London during the said Term. And to the true Performance of all and every the said Covenants and Agreements, either of the said Parties bindeth himself unto the other by these Presents.
Unfortunately Mr Blackman died before James completed the apprenticeship, as an entry on the 5th September 1770 states
"James Barham servant of Robert Blackman dec'd was this day turned over to Edward Gardner Cit and Distiller of Beer lane Tower street Painter by John Smith sole Exor of Mr Blackman"
He was made free in 1776, as the minutes on 5th June that year state
"James Barham of Old Street by trade a Painter Servant of Rd Blackman deceased having been turned over to Edward Gardner Citizen and Distiller now made free by Servitude and having been enrolled. 13s 4d.
The said Servant paid for not having taken up his freedom within time 12s."
James was by this time married although nothing is said of this despite the condition of his apprenticeship that he should not contract matrimony.
For the next chapter in James' life see Marriage and Children