The marriage took place on 30th September 1854 at St Saviour's Church in Southwark (now Southwark Cathedral), which is a little strange as they had both been living in Greenhithe. Their residence was given as Borough Market and Charles' occupation was given as "plumber". The witnesses were Elizabeth Sargent (Eliza's sister) and Joseph Edwin Wesbury. This possibly provides a fascinating link to Charles' half sister Susannah, as the previous year he had married a Susannah Barham in Islington. This is discussed in more detail in the description of Susannah.
Charles' brother Richard had married the previous year and by 1855 had moved to Gosport so only Frederick and Thomas would still be left with their mother in Greenhithe, aged 18 and 15 respectively.
Eliza Sargent
Charles' bride had been born in Sheerness on 26th June 1830. Her parents were Richard Sargent and Eliza (nee Jessop) who had married in Queenborough (Isle of Sheppey) on 27 Aug 1826. Richard was a Coastguard and was born in Aylesford, Kent on 7th April 1805. Two daughters were born while they lived in Sheerness, Eliza and her sister, confusingly named Elizabeth, born in 1834
The censuses reveal that her father's job entailed a fair amount of movement around the North Kent coast as after Sheerness we find them in Erith in1841 (where a son Richard was born) and then Greenhithe in 1851. Strangely Eliza is not present on the 1841 census, but in 1851 the additional detail shows that she was a "Straw hat maker" and that her sister was like her mother, a Dressmaker. One other oddity is that despite her father being described as a coastguard on the censuses, his occupation on the marriage record is "carpenter". By 1861 her parents had moved to Plumstead and Richard is described as "Superintendent Coastguardand" but by the time Eliza's mother died on 12th March 1866 of chronic brochitis they had moved back to Erith. Richard must have retired from his coastguard duties as she is described on the death certificate as "Wife of Beer Shop keeper" - the beer shop being the Locomotive Inn. It was still in existence in the 1930s, as one of the volunteers at the Erith Museum when I visited in the summer of 2005 recalled it, referring to it as "The Loco". It finally closed in the 1960s - as described in a brief note on www.closedpubs.co.uk
The Locomotive was situated on the High Street near the junction with Bexley Road. This was a small 'spit and sawdust' pub that was demolished in the 1960s as part of the misguided regeneration of Erith.
The map below shows the relative locations of the places in this story. Click on it for an enlarged version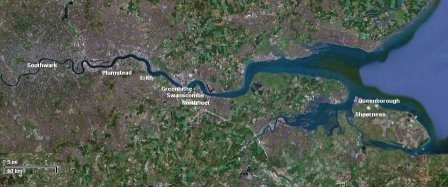 The wedding
So we are forced to ask why did they travel up to London to marry? Was there some disapproval from either parents? We must remember that at this time anybody whose parents were unmarried caried a significant disadvantage in society. So were Eliza's parents opposed to the relationship forcing them to elope?
One possibility for their choice of wedding venue may be the ease of railway travel to London that had just become available. In 1849 the North Kent Line was joined to the London and Greenwich Railway allowing through trains from the towns on the North West Kent coast, including Greenhithe, Swanscombe and Erith. So it is likely that Charles and Eliza had come to London Bridge by train,
One of the strange things about the detail on the marriage certificate is that they are both described as living in Borough Market - right next to London Bridge station and St Saviour's Church. It is unlikely that they were living together so it is possible that they just came up for the day. Indeed they could have travelled up on several occasions, allowing banns to be read on the assumption that they living in the area.
This is of course highly speculative and there are many other possible explanations, but it is clear that they returned to Greenhithe as their first two children were born there. Also it is clear that if there was disapproval from Eliza's parents this did not last as explained in the next section.
For the next section of Charles' life see Northfleet and Erith